Daily Current affairs
29 MAY CURRENT AFFAIRS 2020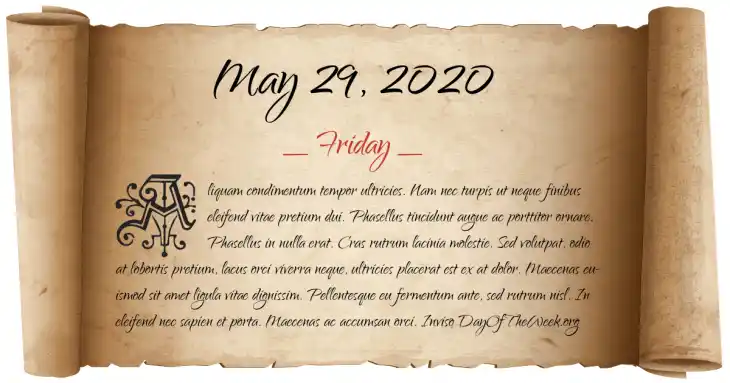 HI EVERYONE, WELCOME TO KANNADAEXAM.IN

THIS IS OUR SITE WHERE YOU WILL GET ALL KPSC AND UPSC STUDY MATERIALS, OLD QUESTION PAPERS, AND MODEL QUESTION PAPERS REGARDING ALL UPCOMING COMPETITIVE EXAMS

OUR SITE ALSO PROVIDES ALL STATE AND CENTRAL GOVERNMENT JOB NEWS AND NOTIFICATIONS WHICH WILL HELP FOR YOU
29 MAY CURRENT AFFAIRS 2020:
1. International Day for Women's Health: 28 May
The International Action Day for Women's Health (or International Women's Health Day) is celebrated every year on May 28, 1987.
The main agenda of the day is to promote the sexual and reproductive health and rights (SRHR) of women all over the world.
Steps are being taken to stand up for sexual and reproductive rights that are part of our human rights.
2.China will launch its first Mars mission, Tianwen-1, in July
In July, China will launch its first Mars mission, Tianwen-1, which is expected to land on the surface of the Red Planet in the first quarter of 2021.
The All-in-One Orbiter, Lander and Rover Tianven-1 Mars, searches the surface for water, ice, investigates soil properties and studies the atmosphere.
The Tianven-1 mission will fly on the Long Rocket on March 5.
The success of this mission makes China the third country to achieve Mars landing after the USSR and the United States.
At the same time as NASA is launching its own Mars mission, China's mission is expected to emerge in late July - an ambitious 'perseverance' aimed at collecting samples of Mars and bringing it back to Earth in a two-part campaign.
3. FM Seetharaman participated in the Special Development Board meeting of the New Development Bank
Union Finance and Corporate Affairs Minister Nirmala Sitharaman participated in a video-conference at a special governing board meeting of the New Development Bank (NDB).
The agenda included the selection of NDB's next president, the appointment of vice president and chief risk officer, and membership expansion.
The outgoing chairman of the NDB, Mr K. Kapoor, was quick to shape the vision set out by the BRICS leaders in 2014. Finance Minister commended V Kamath for his stellar stewardship.
The Finance Minister congratulated the newly elected President of Brazil, Mr Marcos Troyzo, and the newly appointed Vice President and CRO from India, Anil Kishora.
4. Uttar Pradesh Government will develop 800 km of roads into Herbal roads
The Uttar Pradesh government will develop 800 km of herbal roads in the state.
There are medicinal and herbal trees on both sides of these herbal roads.
These herbal roads include trees such as People, Neem, Sahajan and other herbs such as Brahmi, Ashwagandha and Jatropha.
5.RIL has launched WhatsApp chatbot to answer questions of rights issue
Reliance Industries Limited (RIL) has launched "WhatsApp Chatbot" to resolve its 2.6 million shareholder rights distribution queries.
Amid a nationwide lockdown, RIL has turned to WhatsApp Chatbot, developed by Geo Haptic Technologies, with a massive rights issue of Rs 53,125 crore.
This chatbot is the first out of the public offering and is available on WhatsApp.
As with lockdown, it is difficult to maintain adequate call center service, and this chatbot addresses shareholder questions: key dates related to its rights, eligibility for shareholders, how to trade their rights, and what to do if one has physical shares and forms.
6.NPCI AI Virtual Assistant has launched 'Pi'
National Payment Corporation of India (NPCI) has launched 'Pi', an artificial intelligence (AI) based chatbot.
Chatbot is designed to create awareness about its products FastTag, Rupay, UPI, AEPS on real time basis.
This is another NPCI initiative to improve digital financial inclusion in India.
AI Virtual Assistant is available around the clock to help users access accurate information about PAI NPCI products.
Customers can ask their questions in English and Hindi via text or voice on the NPCI, RUPE, and UPI CHALEGA websites.
PAI is developed by Bangalore-based startup Korover Private Limited.
7. Shanmugam, a former football player from Tamil Nadu, has died
Former Tamil Nadu footballer and coach R.Shanmugam has passed away.
Born in Burma in 1943, Shanmugam represented the Burmese junior and senior national teams in 1966-67.
He played for Tamil Nadu in 1968 in Mohan Bagan, Indian Railway in 1969 Nougat Senior Nationals, Jalandhar in 1970 and Chennai Senior National in '71.
He played for the Integral Coach Factory (ICF) in the Chennai Football Association (CFA) League top rank from 1969-77.
He has coached the national team for the Santosh Trophy, ICF, Tamil Nadu and Indian Railways and the international Jawaharlal Nehru Trophy.
Shanmugam also served as President of the Football Coaches Association of Chennai.

8.JK Rowling to release his latest book, "The Icabag"
Author JK Rowling releases his latest children's book, The Ecobag, online for free.
The first two chapters of The Ecobag are available for free. "Rowling will donate all royalties when the book is published to groups affected by the epidemic